At Futtymania we offer wide variety of different tailored events for corporate clients to enjoy. These events are ideal for team bonding, team building and ensure communication, teamwork and motivation of players are at a maximum to succeed and become the Futtymania champions.
The Champions League event offers the ultimate Futtymania experience where multiple teams face off to be crowned the Futtymania Champions.  This package includes the use of the large inflatables where players must use teamwork and communication to get the goals needed to win whilst having fun along the way.  The Champions League package includes the Futty Stadium, Futty Darts, Futty Pitch and the Futty Goal.
The Premiership Package includes our action packed inflatables where players must race against the clock to complete the Premiership Futtymania challenge.  The Premiership package is typical of the English league, it will be fast paced and players will need speed and accuracy to get the points on board to be crowned champions. The Premiership package includes Human Futty Table, Futty Bingo, Futty Bowling and the Futty Goal.
The La Liga Package brings together two teams of Galacticos the question is which team will be crowned the champions. With many people considering La Liga to be a 2-3 team affair the Futtymania La Liga package consists of matches and games where teams play to win points. The team with the highest number of points at the end will be crowned the true Futtymania Galacticos. The La Liga Package includes Futty Darts, Futty Pitch and the Futty Goal.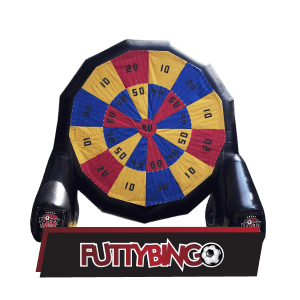 The Serie A League is said to be a one horse race with the occasional emergence of one or two clubs. The Futtymania Serie A package brings together a quick fire tournament to see if that surprise team can become champions. This package is about fun, speed and agility to see who will be crowned champions. The Serie A Package includes The Futty Goal, The Futty Pitch, Futty Bingo and Futty Darts.
The Bundesliga is said to be a one horse race but there is a twist now and again so our Bundesliga Package offers you a set package with the inflatable product of your choice. Therefore at the end of the day it is down to you which inflatable product the winners are crowned upon. The Bundesliga Package includes The Futty Darts, Human Table Futty Pitch and the Futty Pool Table.